Cannabis Facility Plan
This Cannabis Facility Plan Template is intended to meet the requirements of your jurisdiction in describing your physical facility, how it will minimize neighborhood impact, manage materials and be maintained.
This Facility Plan is suitable for Cultivation, Extraction and Manufacturing license types.
A Marijuana Facility Plan starts by describing the structure itself, its location, zoning, size and physical characteristics. You can plug in the specific details of your building here.
A sample floor plan is shown, where you should plug in your own that is labeled based on the rules of your jurisdiction. The Facility Plan also includes estimates of electricity usage, water usage, and waste production for a given quantity of flowering canopy.
The Table of Contents and some sample pages are shown here:
Building Description 4
Building Location/Zoning/Proximity/Accessibility 4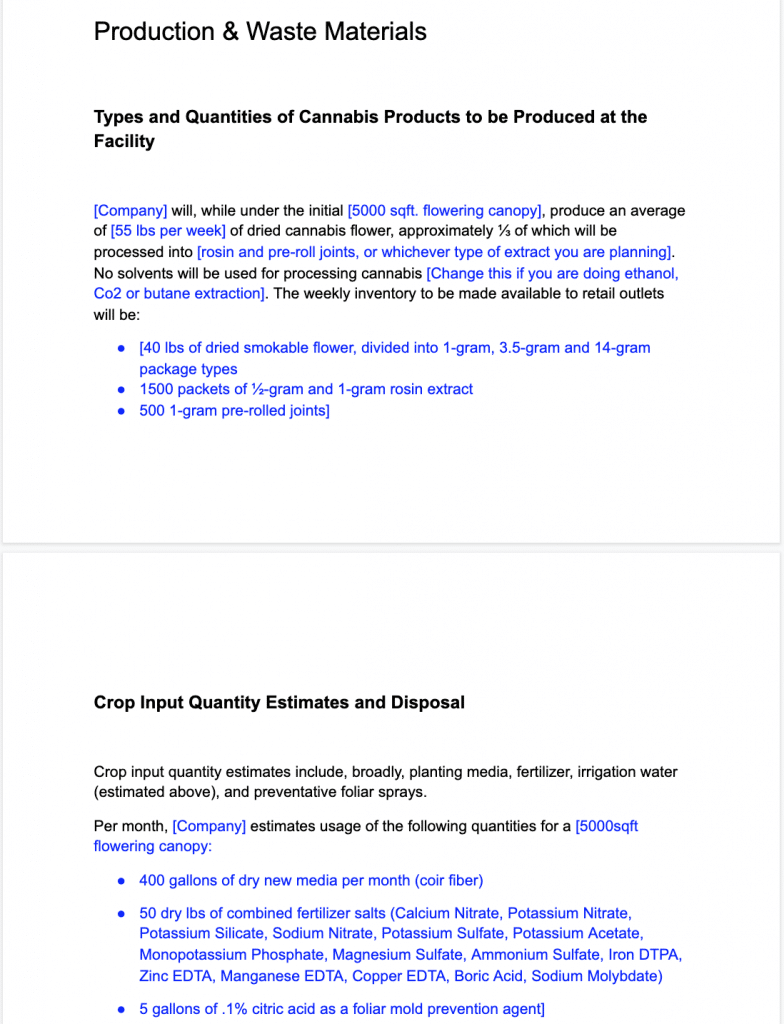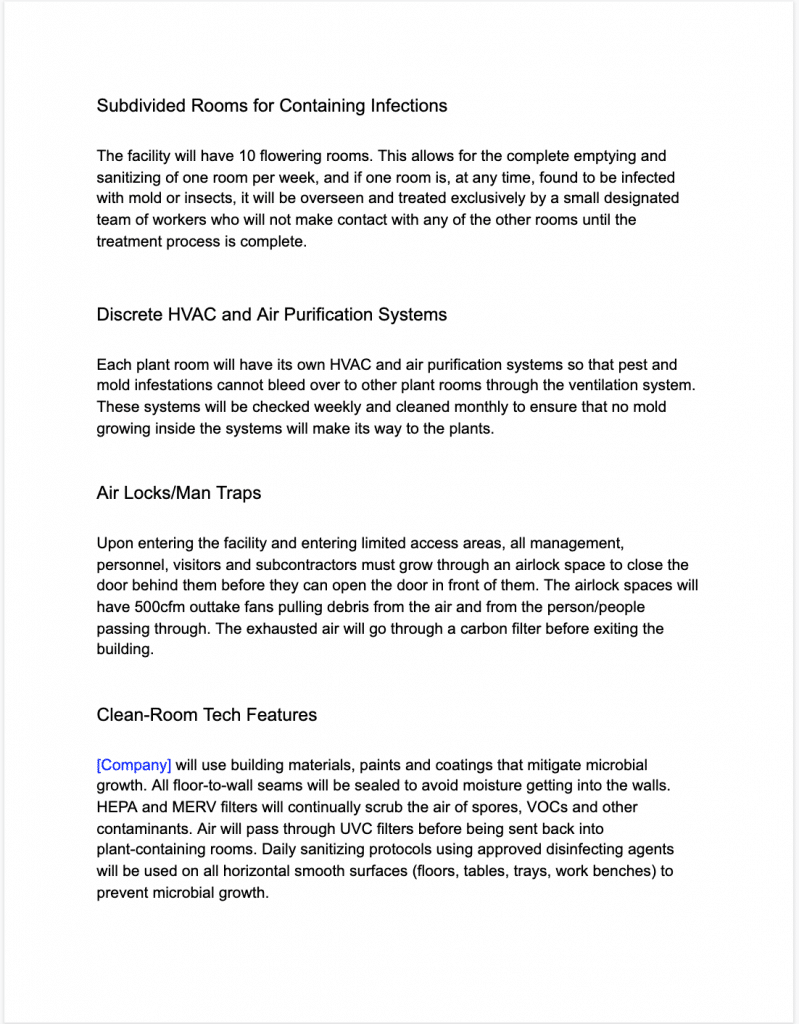 Building Usage Rights 6
Permits/Neighborhood Acceptance 6
Size/Utilities/Construction Materials 7
Water Infrastructure and Filtration 8
Estimated Electrical and Water Usage 9
Electrical Usage Estimates 9
Water Usage Estimates 9
Interior Layout and Lighting 10
Lighting 12
Environmental Controls Description and Standards 13
Minimizing Neighborhood Impact 13
Security 14
Increased Traffic 14
Hours of Operation 15
Noise 15
Odor Control/Air Quality Plan 15
Negative Air Pressure 16
Exhaust 16
Air Filtration/Exchange 17
Doors and Windows 17
System Maintenance 17
Equipment Inspection and Maintenance 18
Production & Waste Materials 19
Types and Quantities of Cannabis Products to be Produced at the Facility 19
Crop Input Quantity Estimates and Disposal 19
Waste Handling and Disposal 20
Waste Safety and Security Assurances 22
Special Non-THC Waste 23
Lamps/Bulbs 23
Pesticide Waste Management & Storage 23
THC Waste 24
Plant Material Waste Storage and Disposal 24
Liquid Cannabis Waste Management and Disposal 25
Recycling Plan 26
Facility Biosecurity 27
Facility Design 27
Subdivided Rooms for Containing Infections 27
Discrete HVAC and Air Purification Systems 28
Air Locks/Man Traps 28
Clean-Room Tech Features 28
High Quality Redundant Mechanical Systems 28
Automated Backup Power/Generator 29
Monitoring 29
Training 30
Facility Maintenance 30
Appendix 1 – Utility and other Infrastructural Contracts 30
Appendix 2 – Odor Equipment Maintenance Log 31
Schedule a Free Preview of This Document Today!