​

​Hi, I'm Jennifer Martin. I am a veteran commercial cannabis grower, a master's educated professional writer, and a big fan of simplifying things and saving time. My colleague and I realized in 2016 that cannabis industry applicants were going to need help with all of the documentation required for licensing, so we wrote these operating plan templates to serve that need.
What's great about these templates is that we studied cannabis regulations from all over the country and have included every standard topic we could find, with great placeholder text, to save you dozens of hours or thousands of dollars having to hire out custom work or start from scratch.
With hundreds of satisfied customers under our belts, we are certain that we've got the best starter operating plan templates for cannabis operators available online.
Unlike other cannabis websites, this business is owner-operated and I personally stand behind the quality of the available products and services.
Cannabis Extraction Plan
This cannabis extraction plan, also sometimes called a cannabis manufacturing plan, focuses on the processing that happens after harvesting and drying cannabis. In California, manufacturing includes extraction and formulations, where in other states, the two terms are used separately.
Cannabis extraction can be divided into two main categories- solventless and solvent-based. Solventless extraction includes kief collection, ice water hash, and rosin pressing. Solvent-based extraction includes Co2 extraction, ethanol extraction, and butane/propane extraction. Of those, Co2 and ethanol are considered safe in comparison to butane and propane, which are explosive substances.
Your state might call the extraction process part of the manufacturing process, but technically speaking, extraction is the production of the cannabis concentrate (rosin, kief, oil), and manufacturing is the process of taking that extract and infusing it into a new product formulation. Our Cannabis Extraction Plan doubles as a Cannabis Manufacturing Plan, covering both stages of the process.
Need extraction consulting? Read our article on how to choose your extraction method.
Need help with planning or budgeting for an extraction business? Click here.
Why do most people buy this Cannabis Manufacturing Plan?
Project Managers buy this plan because, usually because they are being asked to supply an Extraction Plan or Extraction SOPs by their regulatory agency. This plan is written as if the regulator is the reader. It can also be retooled to serve as an internal operations manual that contains your own proprietary extraction methods.
Table of Contents
Introduction 2
Roles and Responsibilities 3
Director of Production 3
Extraction Manager 5
Chief Product Formulator 7
Quality Control 10
Employee Hygiene 12
Sanitation – Facilities 13
Sanitation – Standards and Processes 14
Security 16
Worker Safety 17
Manufacturing Overview 18
Oversight 18
Lot Identification 18
Process Controls 19
Solvent List 19
Standard Operating Procedures 20
Equipment Standards 20
Product List 21
Extraction Types – Overviews 22
Preparation of Material to be Extracted 25
Grinding/Milling 25
Extraction Process Overview 26
Pre-Extraction Decarboxylation SOP 27
Post-Extraction Decarboxylation SOP 29
Purification 32
Extraction Equipment List 32
Kitchen and Formulations Equipment List 34
Dosing Calculation and Oil Preparation SOP 35
Winterization SOP 38
Residual Solvent Removal 42
Infusion/Formulation Operations Overview 42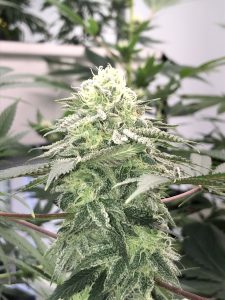 Additional Cannabis Manufacturing SOPs include:
Cannabis Co2 Extraction SOP
Cannabis Ethanol Extraction SOP
Cannabis Butane/Hydrocarbon Extraction SOP
Cannabis Distillation SOP
Cannabis Vape Cartridge Filling SOP
Cannabis Butter Oil Extraction SOP
Cannabis Ice Water Hash (Bubble Hash) SOP
Cannabis Rosin Pressing SOP
Cannabis Infused Gummies SOP
Cannabis Infused Chocolates SOP
Cannabis Infused Brownies SOP
Cannabis Infused Topicals SOP
Cannabis Kief (Dry Sieve) SOP