Cultivation Security Procedures | Dispensary Security Procedures | Manufacturing Security Procedures
What are Cannabis Security Procedures? Procedures, aka Standard Operating Procedures (or SOPs) are step-by-step employee instructions for how to perform a work task. Formats for good quality security procedures can vary, but all legitimate formats should begin with discussing the purpose and scope of the procedure, followed by the role within the organization who is responsible for overseeing the correct implementation and updating of the procedure.
After the opening paragraphs, our security SOPs give a detailed step-by-step instruction to the employees. This section can be updated with specific security rules from your local or state regulations.
Do I Only Need Security SOPs for my Cannabis Business?
In cannabis businesses, there are procedures for a wide range of tasks. Cannabis security procedures are considered critical to the successful functioning of the security system. Implementing hardware systems is just the beginning. Then, security procedures that cover all critical functions must be established.
In addition to Cannabis Security Procedures, you might also want to obtain Cultivation Standard Operating Procedures, Manufacturing Standard Operating Procedures, or Dispensary Standard Operating Procedures. Click on the relevant link to learn more.
What are the Key Considerations for Cannabis Security SOPs?
Dispensary Security Procedures vary from the other license types because Dispensaries serve the public, so more time and effort must go into access control and customer safety.
Cultivation security SOPs will be similar to manufacturing security SOPs and distribution security SOPs. This is because all of these license types are not open to the public and simply protect a private facility and the cannabis entering, exiting and being stored at the facility.
Instead of Procedures, Are You Looking for a Cannabis Security Plan? < Click

Email or call Jennifer Martin at 877-757-7437 for more information and a walk-through of the document text. ​We like our customers to see what they are getting before they purchase, and it's also a good opportunity for industry shop talk.
Detailed Table of Contents for this Set of Cannabis Security Procedures
Secure Receipt of Cannabis Products Procedure – Describes how the Security Manager will accompany and check in incoming cannabis and cannabis products.
Opening and Closing SOP – Describes how the Security Dept. will open and close the facility each day.
Patrolling the Neighborhood SOP – Describes how the Security Dept will patrol the neighborhood.
Controlling Access to the Premises Procedure – Describes how customers or visitors will be checked and limited as they enter the location.
Security Equipment Maintenance Procedure – Describes the process of performing preventative maintenance on security equipment, to ensure no failures in day-to-day performance.
Securing the Premises Procedure – Describes the various steps involved with maintaining a secure premises.
Responding to Emergencies Procedure – Describes the steps that must be taken during emergency situations to secure the facility and the safety of all employees and visitors.
Here is a sample page from one of our Dispensary Security Procedures: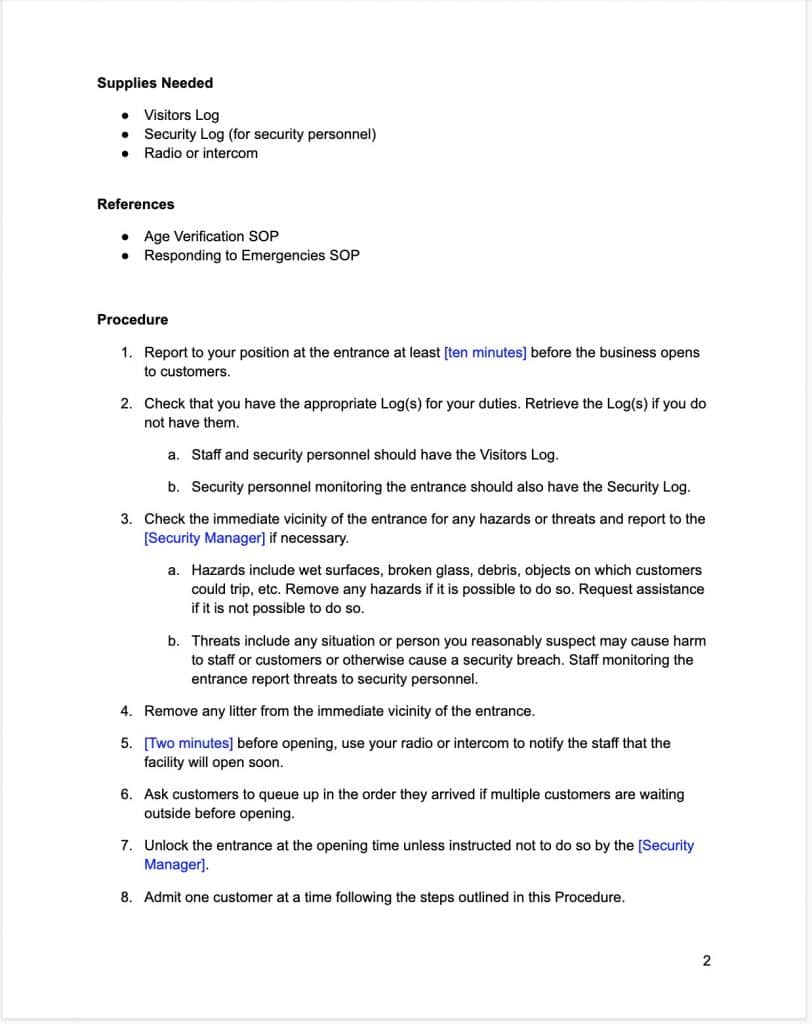 Legal Disclaimer: As templates, these documents do not necessarily address the specifics of your regional regulations. They represent the average industry standards of many different states and countries. We advise that you retain a cannabis attorney to finalize these documents in order to ensure compliance and a smooth application approval process. We are not liable for any discrepancies between these docs and the exact requirements of your regulatory agency. ​​