Cannabis Security Plan – Cultivation, Manufacturing, Distribution or Retail Dispensary
This Cannabis Security Plan is suitable for cannabis cultivation/production, distribution, manufacturing and retail license types. It's a comprehensive cannabis security plan template that will get you started meeting the compliance requirements of your jurisdiction. It includes protocols for various kinds of emergencies, site security, product security and all industry-standard cannabis security plan topics.
This 40-page cannabis security plan template is available for immediate download as an editable Word Doc. We have spent the past 2 years collecting and collating information required for the security operations of cannabis businesses, and this document contains each relevant subject area.

Email or call Jennifer Martin at 510-418-0454 for more information and a walk-through of the document text. ​
Scroll Down for screenshots of what's inside this document.
Cannabis Security Plan Considerations
The term "cannabis security plan" can actually mean two different things. Security hardware companies call a security plan a diagram of the locations of alarms, cameras, exits, windows, doors, lights, etc., and this is a component of a full security plan. When a regulatory agency asks for a cannabis security plan, they are looking for the long-form cannabis security document that we offer on this website. It has a location where you can plug in your diagram of cameras, lights and exits, but it primarily includes a narrative description of your of every detail of your plan to secure the facility, as you can see from the Table of Contents below.
Cannabis business security is no small task! It's the main concern regulatory agencies have–keeping the facility safe and the cannabis products controlled and out of the hands of minors or thieves. When you are inspected by your regulatory agency, security and inventory control are the main things they will care about, followed by quality assurance.
Please Note: Our documents are suited for the pre-license phase of a cannabis business application. They save you time on starting your own document system and will also educate you on all of the topics that you will need to cover when setting up a cannabis production business. ​
Disclaimer: As templates, these documents do not necessarily address the specifics of your regional regulations. They represent the average industry standards of many different states and countries. We advise that you retain a cannabis attorney to finalize these documents in order to ensure compliance and a smooth application approval process. We are not liable for any discrepancies between these docs and the exact requirements of your regulatory agency. ​​
VIEW OUR OTHER OPERATING PLANS
Sample pages of this Cannabis Security Plan Template: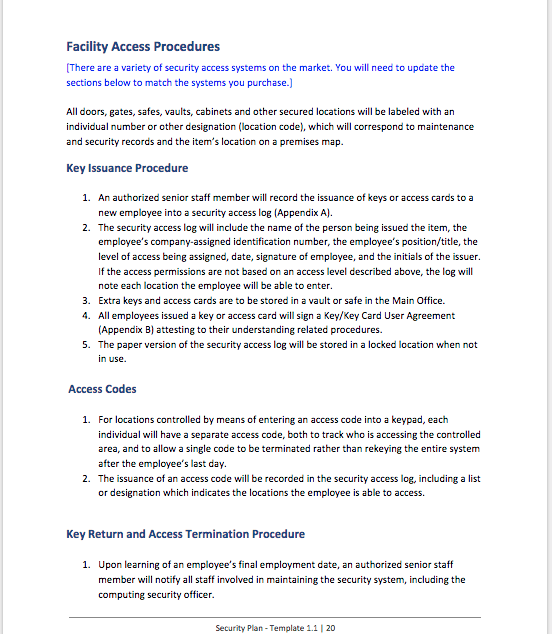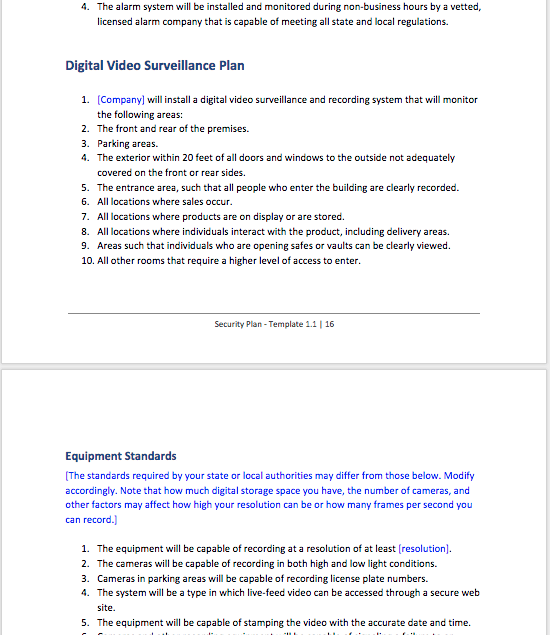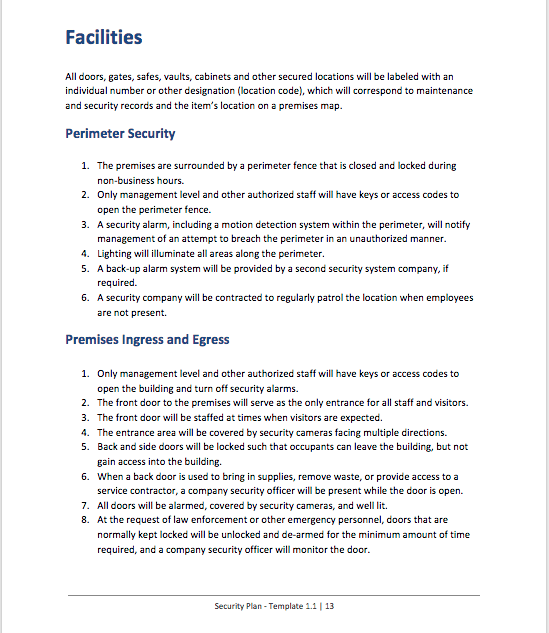 What's inside? Here's the Table of Contents:
Introduction
Roles and Responsibilities
Chief Compliance Officer
Security Manager
Inventory Control Manager
Computing Security Manager
Employee Involvement
Armed Robbery Procedure
Burglary Procedure
Facilities Security
Perimeter Security
Premises Ingress and Egress Security
Product Visibility/Protection
Building Diagram of Locations
Alarm Systems
Security Cameras
Lighting
Interior and Exterior Lighting
Signage
Backup Power System
Alarm System
Digital Video Surveillance
Security Equipment Standards
Video Recording Protocol
Video Surveillance Storage Protocol
Security Equipment Maintenance
Closing Procedure
Product Access/Anti Diversion
Employee Access
Employee Identification System
Facility Access Procedure
Key Issuance Procedure
Access Codes
Key Return and Access Termination Procedure
Locks/Cabinets/Safes/Vaults
Visitor Access
Employee-Specific Security Policies
Background Checks
Employee Security Training
Employee Diversion Prevention
Site Signage
Inventory Control
Inventory Tracking
Transfer of Controlled Products
Waste Management and Disposal
Security of Business Records
Computer Security
Operational and Technical Security Controls
Electronic File Storage
Appendices
APPENDIX A – Security Access Log
APPENDIX B – Key/Key Card User Agreement
APPENDIX C – Visitor Log
APPENDIX D – Networking and Computer Resources User Agreement
APPENDIX E – Shipping Manifest Sample
Contact Jennifer to schedule a document tour before buying or to get a package discount code:
VIEW OUR OTHER OPERATING PLAN TEMPLATES
Keywords: Cultivation Security Plan, Dispensary Security Plan, Cannabis Security Plan Template, Dispensary Security Plan Template, Cannabis Security, Dispensary Security