Description
Cannabis Distribution Plan
This Cannabis Distribution and Transportation Plan is a 33-page document delivered as an editable Word doc, available for immediate download after purchase (you'll get a download link in your email receipt). It is written with California regulations in mind, but it can be easily modified for any jurisdiction. This Distribution Plan contains industry-standard information that generally only varies slightly from one jurisdiction to another.
This Cannabis Distribution Plan covers the processes through which cannabis is transferred from producers to distributors, including lab testing, tax collection, quality assurance and the associated processes and protocols.
Scroll down to see the Table of Contents and sample pages.
All of our cannabis standard operating procedure templates are integrated, meaning they use the same terminology, have the same format and same job titles.
Please contact Jennifer Martin for more information or to get a screenshare document tour before you purchase. 510-418-0454 (HST).
Note: Our templates are suited for businesses in the pre-license phase of a cannabis project. They are intended to get your started in meeting the regulatory requirements of your jurisdiction. 
Disclaimer: This documents is a template and thus does not address the specifics of your regional regulations. It contains the average industry standards of many different states and countries combined. We advise that you consult a cannabis business attorney in order to ensure full compliance with your jurisdiction. We are not liable for any discrepancies between this document and the specific requirements of your regulatory agency. ​​
Table of Contents
Introduction
Roles and Responsibilities
Chief Compliance Officer
Quality Assurance Officer
Certified Public Accountant
Distribution Manager
Transportation Staff
Inventory Control Manager
Security Manager
Employee Involvement
The Distribution Function
Overview of Distribution
Permitted Activities
Prohibited Activities
Security
Receiving Cannabis Products
Storage of Cannabis Products
Laboratory Testing
Quality Assurance Review (QAR)
Repackaging Cannabis Products
Transporting Products to a Retailer
Required Transport Vehicle Information
Transport Personnel Requirements
Shipping Manifest
Transporting Cannabis Products to a Non-Retail Licensee
Returned Cannabis Products
Collecting and Remitting Taxes
Cultivation Tax
Excise Tax
Sales Tax
Records
Insurance and Bond Requirements
Appendix A
Storage Label Form
Appendix B
Distributor Quality Assurance Checklist
Appendix C
Record of Package Modification Form​​
Email or call Jennifer Martin at 510-418-0454 for more information and a walk-through of the document text. ​
​
VIEW OUR OTHER OPERATING PLAN TEMPLATES
Sample pages from this Cannabis Distribution Transportation Plan: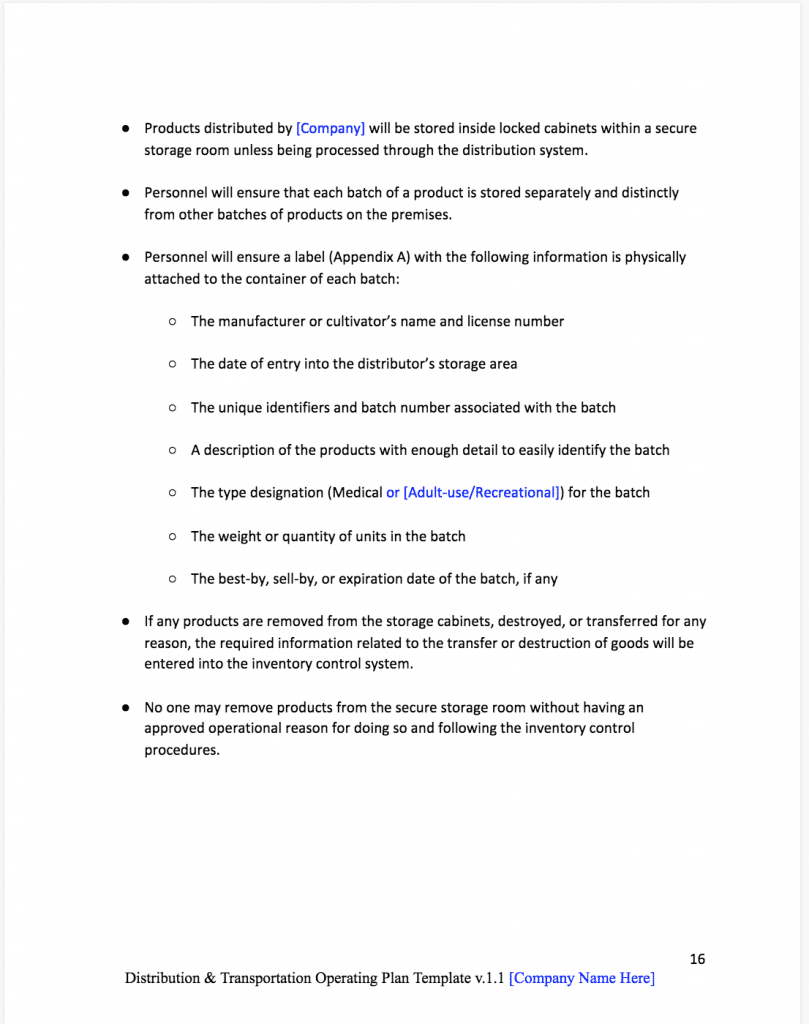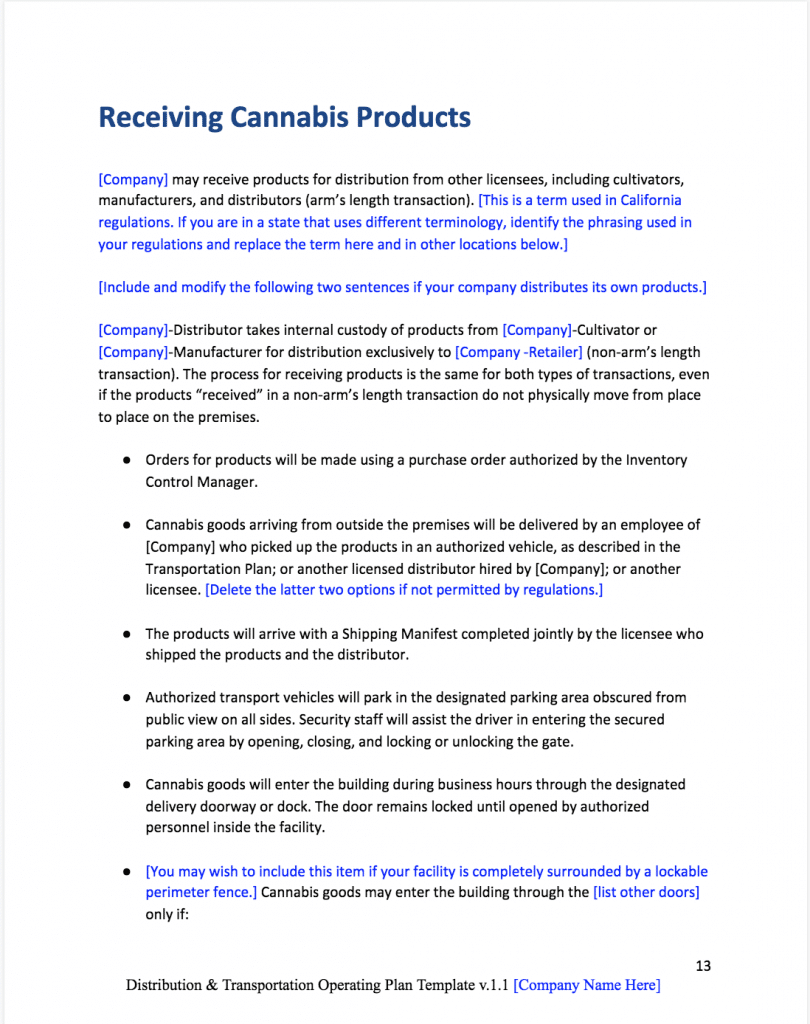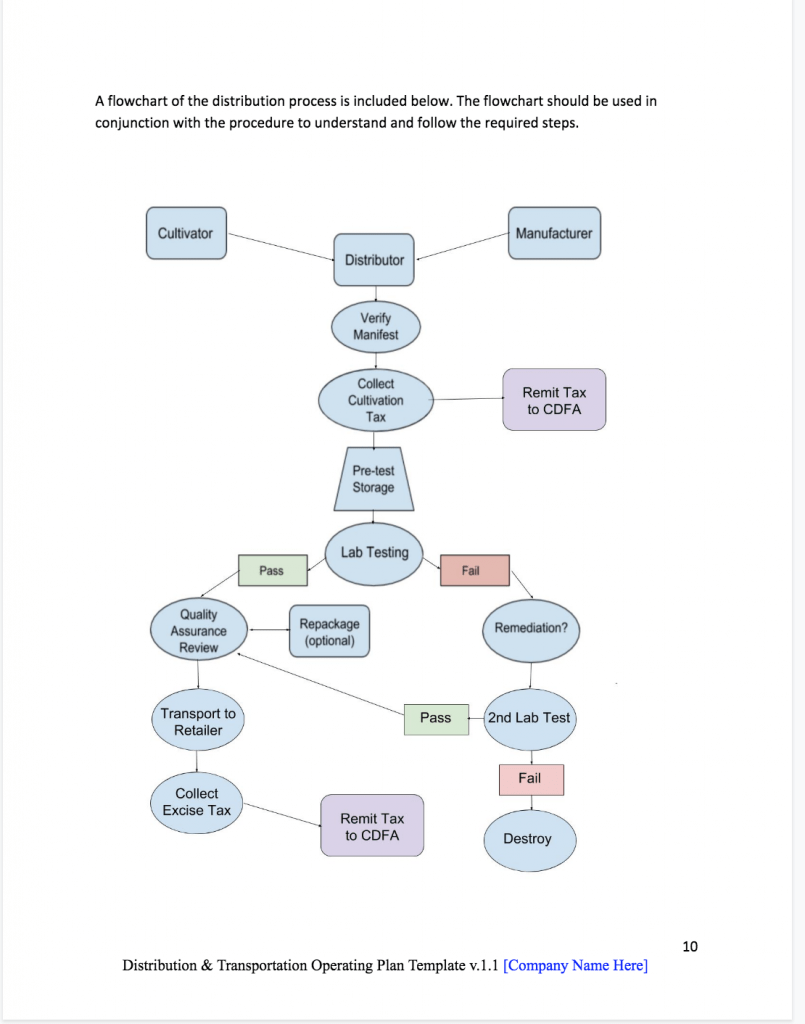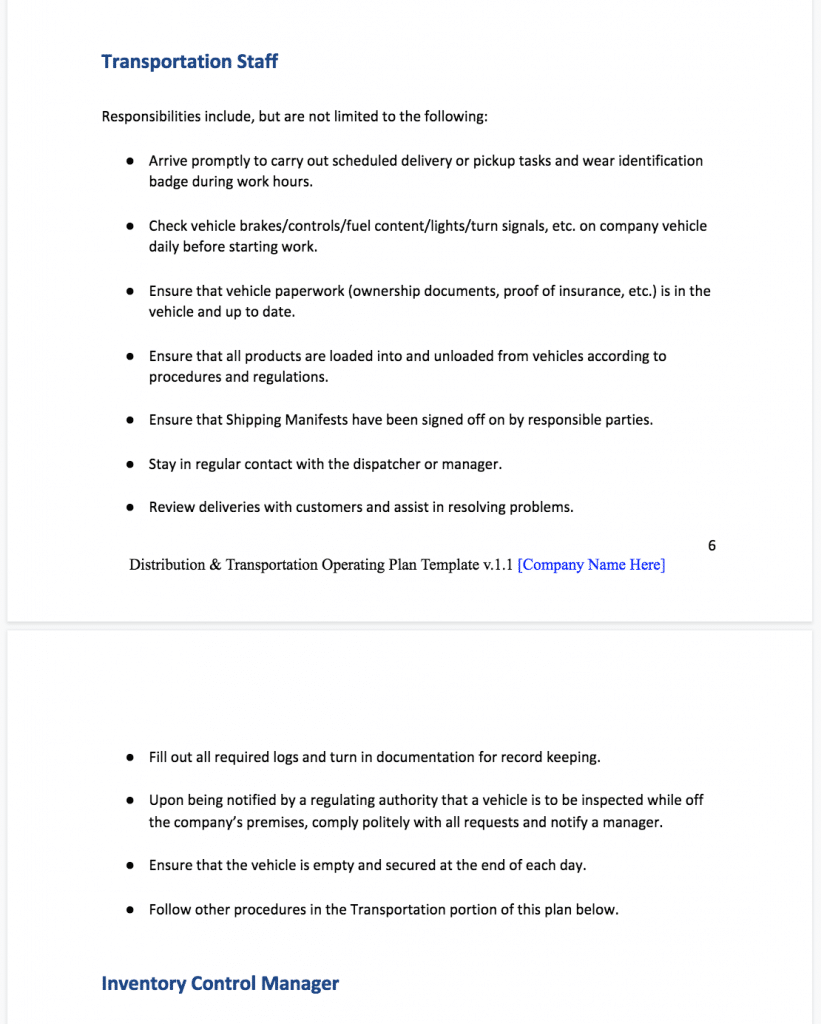 VIEW OUR OTHER OPERATING PLAN TEMPLATES