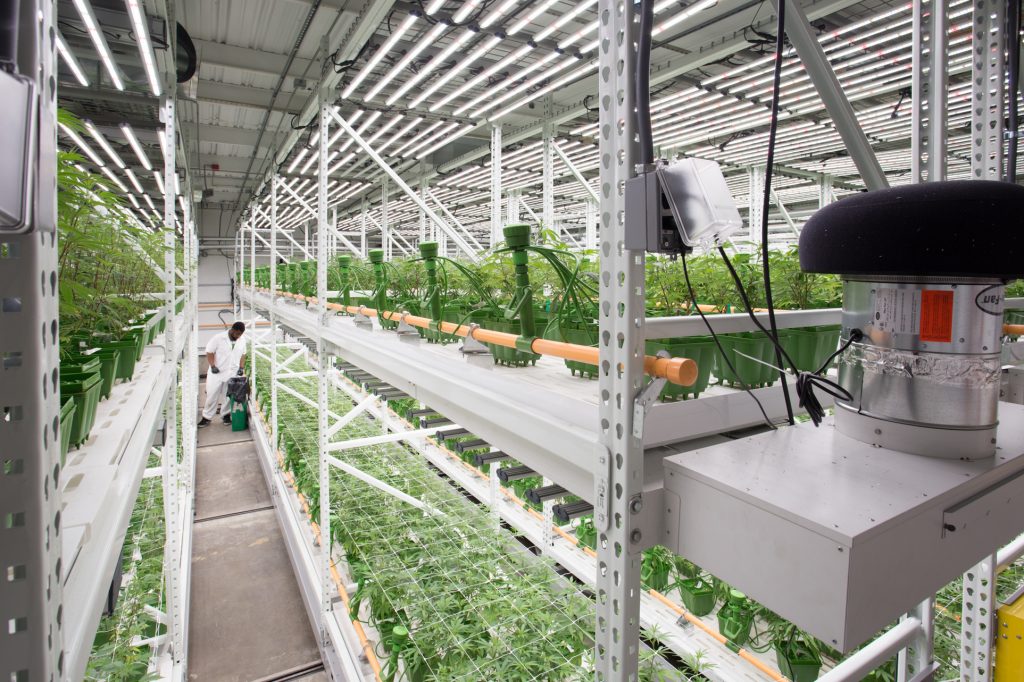 Cannabis cultivation is known to be environmentally demanding, particularly because of the high quantity of electricity required for indoor cultivation. Each 4×4′ area of canopy requires 600w of LED light in order for flowers to reach full size and maturation. If you are using HPS lights, the minimum wattage quantity for full flowering is closer to 1000watts. Watts relate directly to heat, thus a 1000w fixture will produce quite a bit of heat that must be offset by air conditioning. Think about how much heat a 1500w space heater produces and you'll have a real sense of what I mean.
If you have a grow room with 1000 square feet of flowering canopy in it, that's about 37,000 watts of heat (with LED lighting) being produced, plus another ~15,000 watts of energy being used to power the air conditioning and dehumidification systems. Almost no other industry uses that much electricity for 1000 square feet of operational space. That's why almost all cannabis production facilities need significant electrical service upgrades before they can be used.
You might be wondering about using solar panels to supply your energy, which is generally a great idea if you have the budget to buy the system AND enough land space to mount it. The rooftop of your facility is not nearly enough space to provide enough energy if it's totally covered with panels. It would require 6-10x more space for enough panels to supply enough solar power.
Besides offsetting the electrical draw, various other steps can be taken to offset the carbon footprint of a cannabis business. Many of them are responsible things to do no matter what the business type.
The main reason project managers seek a cannabis environmental sustainability plan, however, is to satisfy requirements of the jurisdiction or rise above the crowd in a competitive licensing environment.
As you can see in the Table of Contents below, there are several approaches to improving the environmental responsibility of the business, and every little bit helps.
Cannabis Environmental Plan Template – Table of Contents
Introduction 3
Minimizing Carbon Footprint 3
Minimizing Environmental Impact 4
Building Design 4
Green Materials 4
High Insulation Value 4
Minimal Air Exchanges 5
Odor Control 5
UVC and HEPA filtration 5
Energy-Efficient Fixtures 6
Wiring and Voltage 6
Electrical Time of Use 6
Office/Facility Policies 6
Waste Minimization 7
Minimizing Resources Needs for the Production of Cannabis 7
High Performance Cultivation Techniques 7
Data Logging for Optimizing Usage 8
Alternative Energy Plans 9
Renewable Energy 9
Water Usage and Treatment of Wastewater and Runoff 9
Water Reclamation/Filtration 9
Drip Irrigation System 10
Water Usage Assurances 10
Equipment and Water Efficiency 11
HVAC/Environmental Controls 11
Lighting 11
Regular Servicing and Sanitation 12
Research and Process Reviews 12