Description
This Quality Control document is immediately available for download in MS Word doc format. You'll receive an email after your payment is confirmed with a download link. This 19-page Cannabis Quality Control Plan template applies to all cannabis facility license types and will be required for most license application submission, in most states and countries. We have oriented this particular version around California regulations, but it can be easily modified to match your jurisdiction. It contains industry-standard information.
See below for the Table of Contents and sample page of content. It includes standard topics found such as inspection practices, packaging and labeling standards, and adverse events/recall procedures.
YOU CAN VIEW THIS DOC BEFORE YOU BUY!  Please email or call Jennifer Martin at 510-418-0454 for further information.
OR SCROLL DOWN TO SEE 3 SAMPLE PAGES.
We also have templates available for Business Plans, Security, Cultivation Operations, Waste Management, Record Keeping, Inventory Control, Pest Management, Staffing & Training, and more.
VIEW OUR LIST OF AVAILABLE OPERATING PLAN TEMPLATES
Please Note: These templates are designed for projects in the pre-license phase of a cannabis project. They are intended to get your started in meeting the regulatory requirements of your jurisdiction.
​
Disclaimer: This operating plan is a template and as such does not necessarily address the specifics of your jurisdiction's regulations. It represents the average industry standards of many different states and countries. We advise that you consult a local cannabis attorney to finalize these documents in order to ensure full compliance. We are not liable for any discrepancies between these docs and the exact requirements of your regulatory agency. ​​​ ​​
​TABLE OF CONTENTS
Introduction 3
Roles and Responsibilities 5
Quality Assurance Officer 5
Quality Control 6
Plant Inspection 7
Equipment 7
Internal Sampling and Testing 9
Packaging and Labeling 10
Audits 11
Adverse Event and Recall Plan 12
Adverse Event Planning 12
Adverse Event Recording & Investigation 13
Information gathering: 13
Distribute gathered information 14
Notify others as soon as possible 14
Secure unsold items from the specified batch(es) 14
Investigate 14
Develop a response and notify others 15
Recall Plan 16
Adverse Event Documentation 17
Reporting Requirements 17
Quality Assurance/Quality Control Training 18
General Training 18
Adverse Event Team 19
Training Support 19
Sample Pages: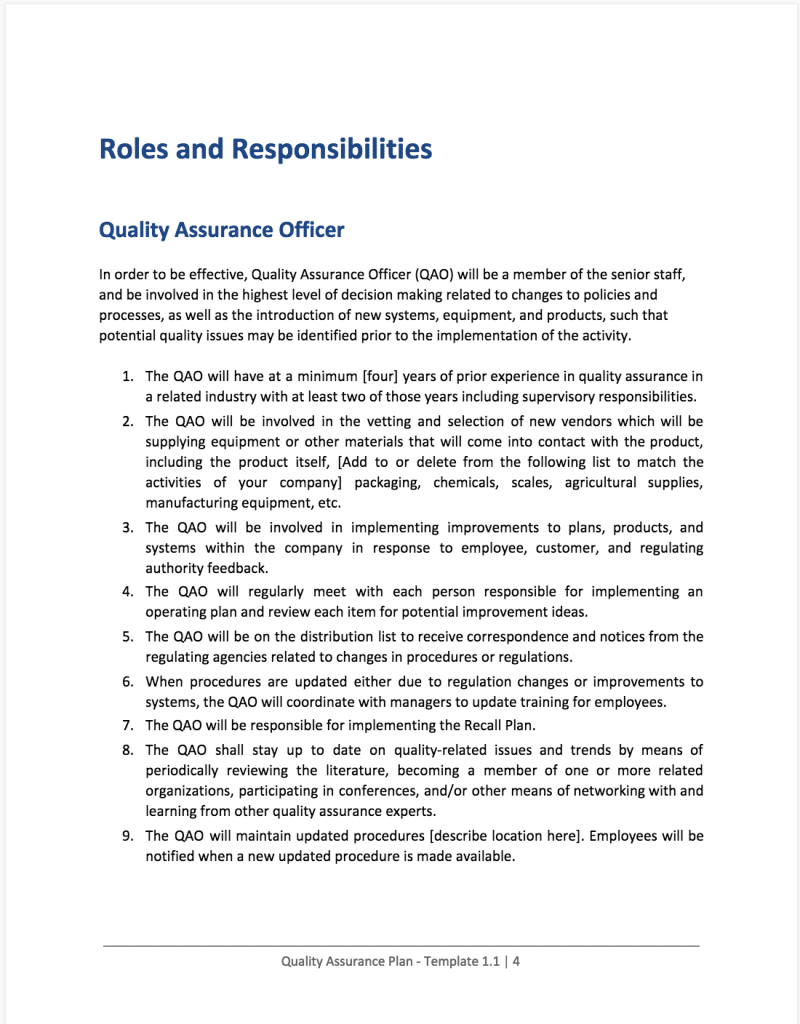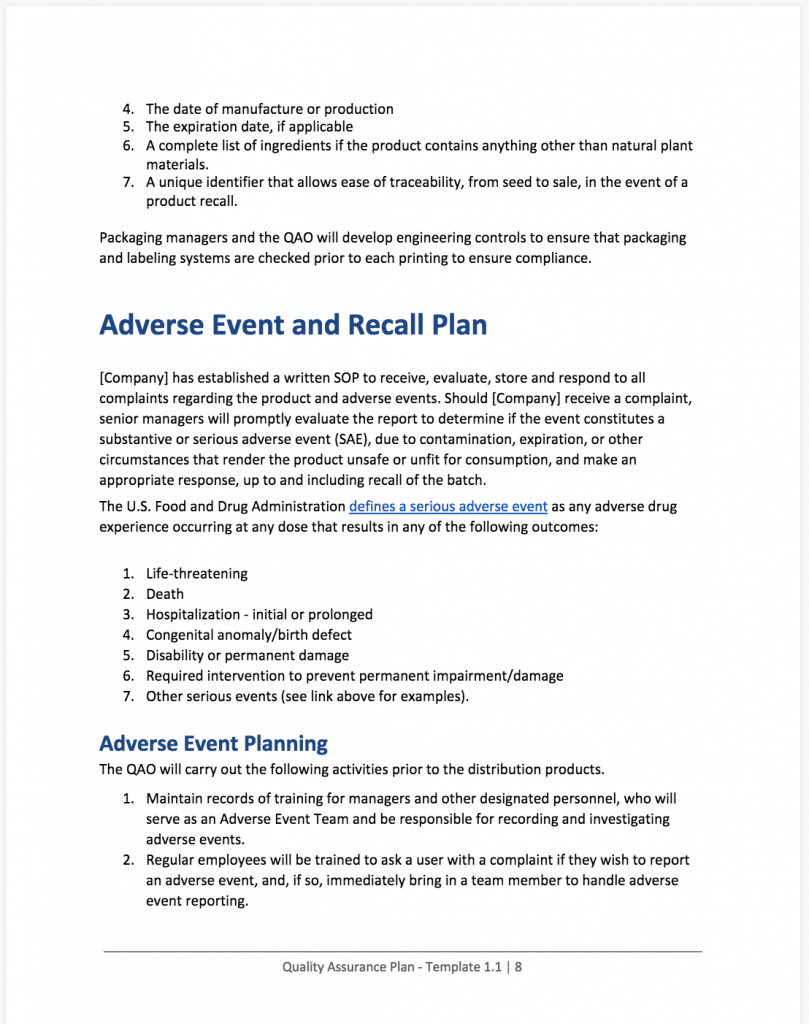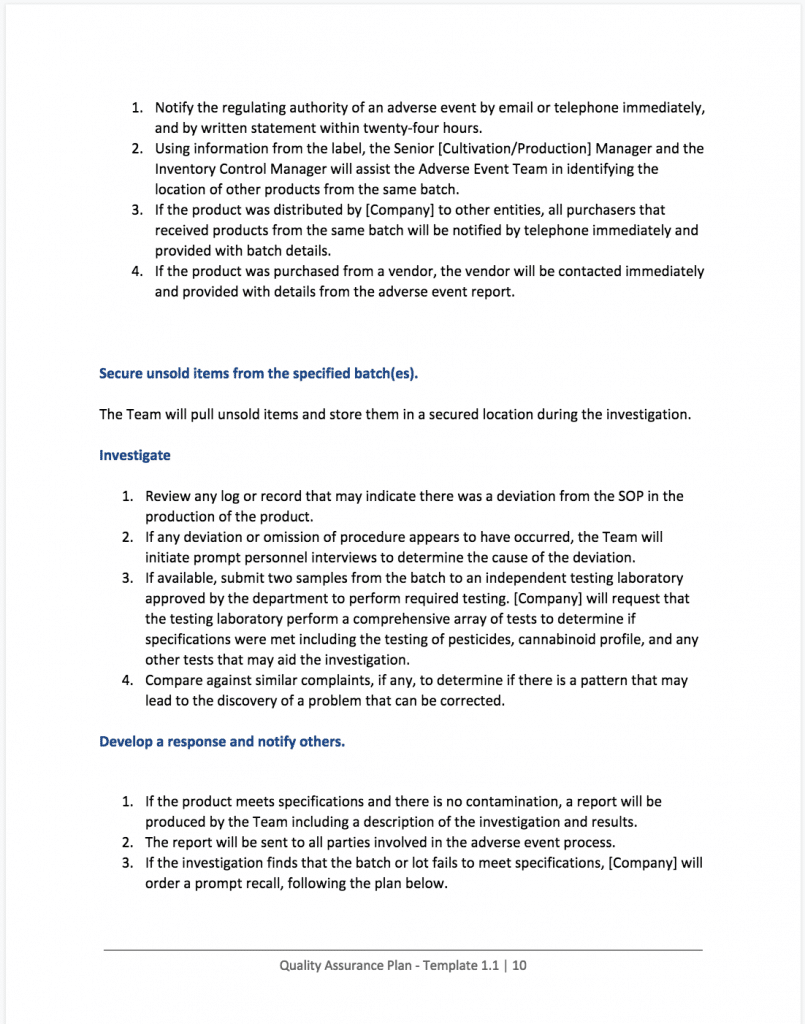 Schedule a document viewing before you buy by Contacting Jennifer.