Cultivation Operating Plan Table of Contents (Processing is the same except for pages 31-37):
Security 3
   Alarms 4
   Video Surveillance 5
   Emergency Action Plan 6
      Engineering Controls for Emergency Response 6
      Armed Robberies 7
      Burglaries 8
      Evacuation Protocols 8
      Medical Emergencies 9
      Fire Emergencies 10
      Earthquake Response 13
      Hurricane and Tornado Events 13
      Floods 14
      Unforeseen Weather Conditions and Blizzards 14
      Lightning Strikes 15
      Power Outages 15
Preventing Diversion of Cannabis 15
Employment Practices 16
   Diversity 17
      Equal Opportunity Employment and Promotion 19
      Harassment and Discrimination-Free Workplace 19
      Anti-Sexual Harassment Policy 19
      Inclusion 20
      Retention 20
      Accountability 22
   Employment Qualifications 22
   Training 23
   Background Checks 24
   Badges 24
   Employment Records 24
Record Keeping Systems 25
   General Record Keeping Rules 25
   Transport Manifest 26
   Pesticide Application Log and Room Lockout Tag 27
Hours of Operation 29
Type and Quantities of Cannabis Products to be Produced 29
Cultivation Methods 31
   Planting 31
   Harvesting 32
   Drying 33
   Storage 33
   Cultivation Procedures 33
      Sprouting Seeds 34
      Creating and Maintaining Mother Plants 35
      Vegetative Growth Management 37
      Flowering Canopy Plant Management 37
Inventory Control and Tracking 38
Packaging and Labeling Procedures 40
   General Packaging and Labeling Rules 42
   Packaging Requirements 42
   Labeling Requirements 42
   Packaging & Labeling Exclusions 43
   Handling Out-of-Compliance Packaging and Labeling 44
   Packaging & Labeling Checklist 45
   Packaging & Labeling Procedure 48
Sanitation Procedures 52
   Daily Facility Cleaning SOP 55
Supplemental Content – Based on additional SOPs required in the online application portal: 
Regulatory Compliance Plan
Adverse Event SOP
Remediation and Failed Batch SOP
Sampling and Testing of Cannabis SOP
Quality Assurance/Control SOP
Inventory/Storage/Anti-Diversion SOP
Financial/Accounting Plan
The above represents an additional ~40 pages of text.
Are you working on your Mississippi Cultivation License Application or your MS Processing or Transporting License?
We have found that the application requirements for MS Cannabis Licenses are quite different in the Regulations (Cultivation, Processing, Transportation, Waste Disposal) than what you find when you log into the online application portal. The regulations outline these requirements:
"At a minimum, an application for licensure as a cannabis processing facility must include the following:
An operating plan that demonstrates at a minimum how the applicant's proposed premises and business will comply with applicable laws and rules regarding:
A. Security
B. Employment practices that include a plan of action to inform, hire, and educate minorities, women, veterans, and persons with disabilities, engage in fair labor practices, and provide employee protections
C. Record-keeping systems
D. Hours of operation
E. Preventing diversion of cannabis and/or cannabis products
F. Types and quantities of cannabis products that will be produced at the cannabis cultivation facility
G. Methods of planting, harvesting, drying and storage of cannabis and/or cannabis products (for cultivation)
G. Methods of processing cannabis and/or cannabis products (for processing)
H. Inventory control and tracking
I. Procedures for proper labeling and packing
J. Transportation of cannabis and/or cannabis products (requires separate license)
K. Disposal of cannabis waste (requires separate license)"
BUT when you create an account and login into the actual application portal, you find requirements for quite a few more SOPs that are not mentioned at all in the statute or the regulations. We have created those as add-ons to the Operating Plans. They can also be purchased individually upon request.
Here are the operational requirements shown in the upload section for cultivators and processors (the list is slightly different for transporters and waste disposal entities). We have annotated them so you can be aware of the items we have available.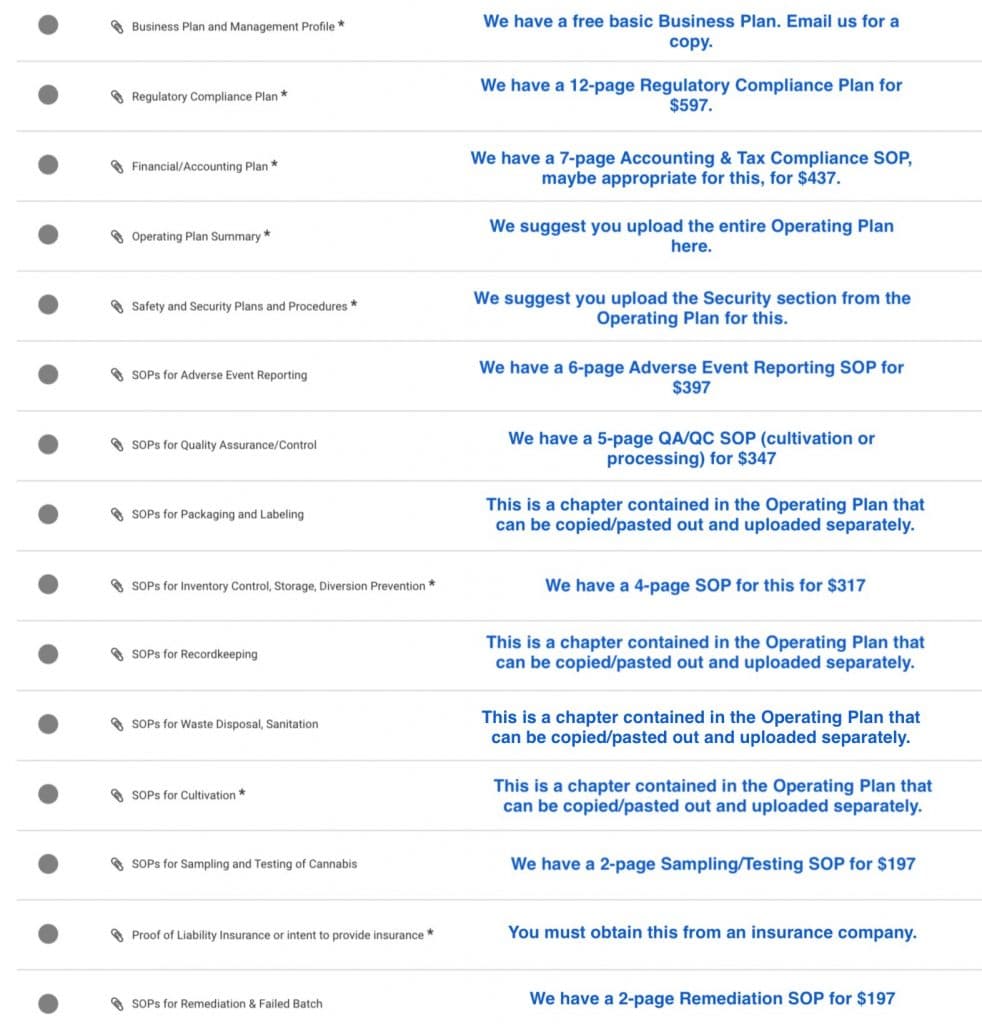 Please contact us for document previews and any questions you might have!