(Updated July 2023)
Marijuana Diversity Plan
A common recent component of state and federal cannabis legalization legislation is an emphasis on the importance of racial equity considerations in licensing, rules, and hiring practices. This is due to the direct link between the Drug War, mass incarceration and the associated cost to minority communities. Activists rightly emphasize the need for disadvantaged individuals to have more opportunity in an industry that historically has disproportionately affected them.
Especially as a part of the competitive licensing process, Cannabis Diversity Plans are becoming a common requirement. This is similar to a Hiring Plan, but is focused on the special steps you, as a cannabis employer, can take to ensure that your workforce will be diverse among all minority groups, including women, veterans and ethnic minorities.
This 26-page Cannabis Diversity Plan is available for immediate download as an editable MS Word Doc.
If you'd like to see some sample pages, please Contact Jennifer Martin for a screenshare.
Table of Contents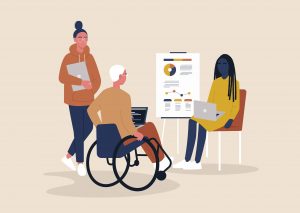 Introduction 1
Diversity 2
Equity 3
Cannabis Equity 4
Inclusion 5
Workplace Policies 5
Equal Opportunity Employment and Promotion 6
Harassment and Discrimination-Free Workplace 6
Anti-Oppression 7
Plan Objectives 7
Unconscious Bias 8
Hiring 9
DEI Survey 11
Employee Resource Groups 14
Training 15
Training Formats for DEI 15
Training Structure 16
Training Topics 17
Training Record Keeping 18
Retention 19
Procurement and Contracting 21
Measuring Outcomes 21
Establishing and Measuring Benchmarks 21
Other Tools for Measuring Outcomes 24
Communication 25
Conclusion 26
Diversity Plans
A Diversity Plan is now commonly required by cannabis regulatory commissions during the licensing process. This is especially true for competitive licensing processes. Any business aiming to ensure that they have a positive impact on the community and offer services and opportunities to all types of customers will also want to show that their staff, managers, and even their officers, owners and board members equally represent the demographics of the community they serve. Promoting equality is always seen as a good thing for businesses that serve a wide range of ages and ethnicities.
Medicinal cannabis programs in particular include very broad range of clients. Demographic measurements these days don't only include diversity as it relates to race, ethnicity and gender, but now are expected to include veterans, people with disabilities, ex-cons and members of the LGBTQ+ community.
Business Considerations
As much as any business would like to choose all of its human associates (employees, vendors, partners, etc.) based solely on experience and trust, cannabis control commissions are wanting to have some control over that process, given that it has historically resulted in a white, male-dominated demographic landscape. In order to enforce equity, diversity plans are being tried as a solution to that tendency.
Some regulatory agencies only need a generalized description of how a cannabis business will handle the creation and maintenance of a diverse workforce, along with the commitment to a good faith effort. Other agencies and jurisdictions, however, might go as far as requiring the collection of personal information about the demographic make-up of all staff, officers and contractors, to ensure a wide range of representation in the businesses they regulate.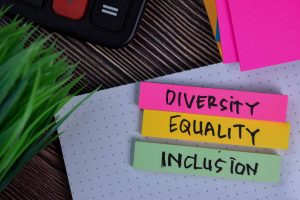 Our Cannabis Diversity Plan includes many ideas, goals and strategies about how you can build a diverse workplace. You can also bring in 3rd-party diversity training organizations to create curriculum and train the workforce on how to promote participation from all different cultures and ethnic groups of people, and to be tolerant of all kinds of people.
Diversity metrics can be tracked by software programs such as Diversio.com. These tracking programs are especially useful for bigger businesses that might accidentally lose track of their employee and contractor demographics if not managed on an ongoing basis.
Contact us today for a free preview and discussion about your cannabis diversity needs.!