Cannabis Staffing and Training Plan
This Staffing & Training Plan is a 42-page editable MS Word document, available for immediate download after purchase (by email delivery). This Staffing and Training Plan for cannabis businesses is a foundational document from our set of available plans, because it details the organizational structure of a typical cannabis business, including a top-down organizational chart in both visual and text format. It includes detailed job descriptions for each executive and departmental management position. Use this document to create your team and track your budget the hiring processes.
The Cannabis Staffing and Training Plan includes training standards, policies and best practices for cannabis business staffing. See below for the Table of Contents.
This Staffing and Training plan is more than a basic template; It's a very comprehensive document that will require very little editing other than adding your company name and altering a some job titles. We are very proud of the detailed work we've done on this particular plan, and what's inside is based on our behind-the-scenes experience in multiple licensed cannabis facilities over the past few years.
The best part of this Cannabis Staffing and Training Plan is the Training Matrix Appendix, which includes over 140 facility functions that require training. The reason this Training Matrix is so valuable is because seeing and thinking about these training topics educates you on everything that has to be learned and executed in a cannabis cultivation or manufacturing facility. In other words, once you read it, you'll know everything you need to wrap your head around in order to run a cannabis production facility.
If you plan to buy only one operating plan from us, this Staffing and Training Plan is the one to get. If you are going to buy 4, the 3 other most popular plans are the Cultivation Operating Plan, the Comprehensive Security Plan and the Record Keeping Plan.
SCROLL DOWN TO SEE SCREENSHOTS OF THIS STAFFING AND TRAINING PLAN
Contact Jennifer Martin for more information or a document walkthrough. 510-418-0454 HST
VIEW OUR COMPLETE LIST OF OPERATING PLANS
Please Note: Our documents are suited for the pre-license phase of a cannabis business application. They save you time on starting your own document system and will also educate you on all of the topics that you will need to cover when setting up a cannabis production business. ​
Disclaimer: As templates, these documents do not necessarily address the specifics of your regional regulations. They represent the average industry standards of many different states and countries. We advise that you retain a cannabis attorney to finalize these documents in order to ensure compliance and a smooth application approval process. We are not liable for any discrepancies between these docs and the exact requirements of your jurisdiction. ​​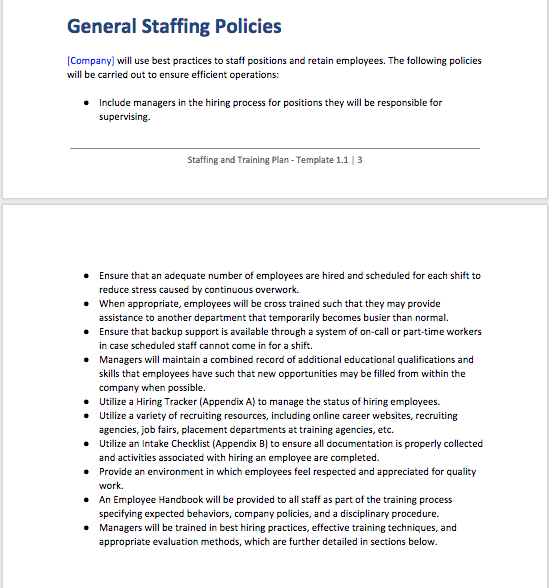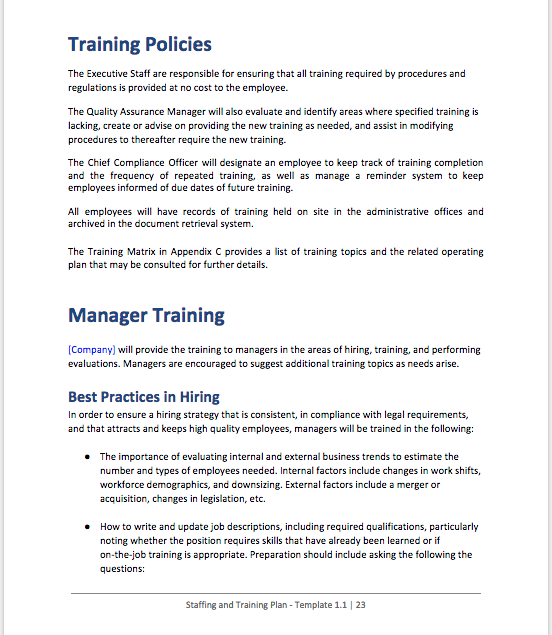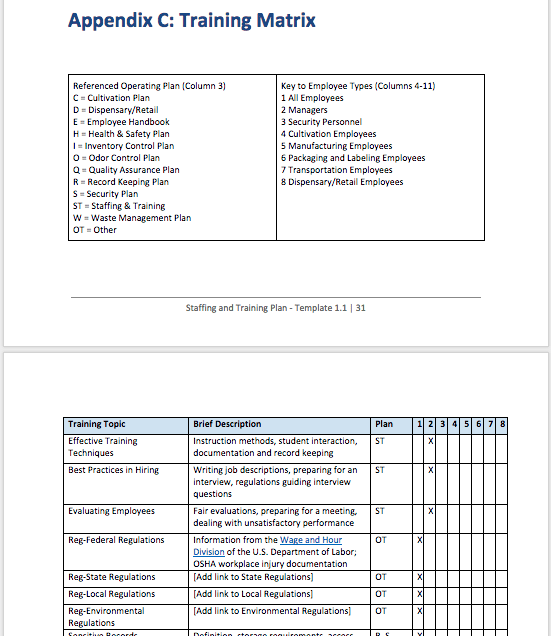 TABLE OF CONTENTS
Introduction
Staffing Policies
Staffing Requirements
Organizational Chart (Text and Visual)
Job Descriptions and Hiring Requirements
Chief Executive Officer
Chief Compliance Officer
Security Manager
Security Staff
Computer Security Manager
Inventory Manager
Quality Assurance Officer
Chief Financial Officer
Sales Manager
Director of Production/Cultivation
Cultivation Manager
IPM Manager
Facilities Manager
Record Keeping Manager
Training Policies
Manager Training Methods/Standards
Best Practices – Hiring
Training Standards and Techniques
Employee Evaluation Methods
Appendices
A: Hiring Tracker
B: Employee Intake Check List
C: Training Matrix (Lists all topics in all departments that require training for different employee groups)
D: Notice of Needed Improvements
E: Personal Vehicle Driving Agreement
​Contact Jennifer Martin at 877-757-7437 for more information or a walkthrough of the document.
CONTACT US