Cannabis Waste Management Plan
This 20-page Waste Management Plan works for all cannabis license types and covers the handling every kind of waste generated at a cannabis production, manufacturing, or retail facility. This includes THC cannabis waste, such as plant and extraction material, but also standard liquid and solid hazardous and non-hazardous waste.
When you buy this document, you'll immediately receive an email with a download link to the editable Word doc. You can then plug in your company name, add any particular customizations, and you're good to go. Starting from a template, rather than from scratch, will save you thousands of dollars and dozens of hours of time, which is ideal for the smart DIY cannabis license applicant.
SCROLL DOWN TO SEE SCREENSHOTS OF THE DOCUMENT
If you are new to the cannabis industry, reading this boiler plate waste management operating plan will give you lots of new ideas that will help you build your project and create your plans down to the detail.
Jennifer Martin is a veteran commercial cultivator and consultant and is readily available to walk you through the docs and answer your questions, before or after your purchase. Contact Jennifer now by email or by phone at 510-418-0454.
Need other plans? We also have templates for Inventory Control, Staffing & Training, Quality Assurance, Record Keeping, Business Plan, Security Plan, Inventory Control, Pest Management and a Cultivation Operating Plan, and much more…
​VIEW OUR OTHER CANNABIS OPERATING PLAN TEMPLATES
Special Note: These documents are suited for projects in the pre-license stage of a cannabis business. They are intended to get you started in meeting the regulatory requirements of your jurisdiction, whether local or national.
Disclaimer: Being templates, these documents do not necessarily address the specifics of your specific regulations. They represent the combined industry standards of many different states and countries. We strongly suggest that you consult a cannabis attorney with experience in your jurisdiction to finalize all application documents in order to ensure a smooth application process. We are not liable for any discrepancies between these documents and the specific requirements of your regulatory authority. ​​
Table of Contents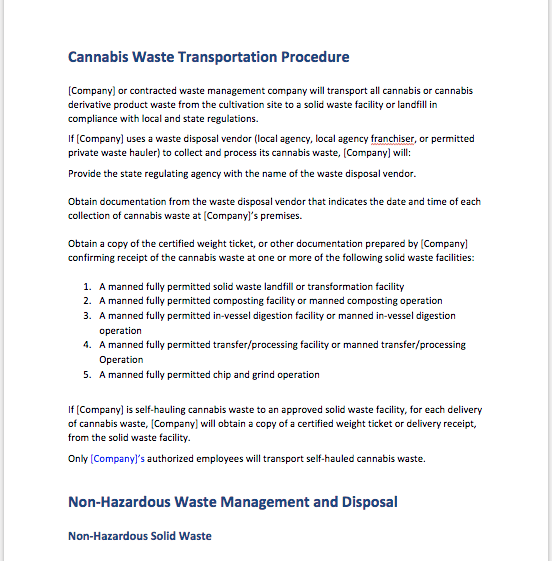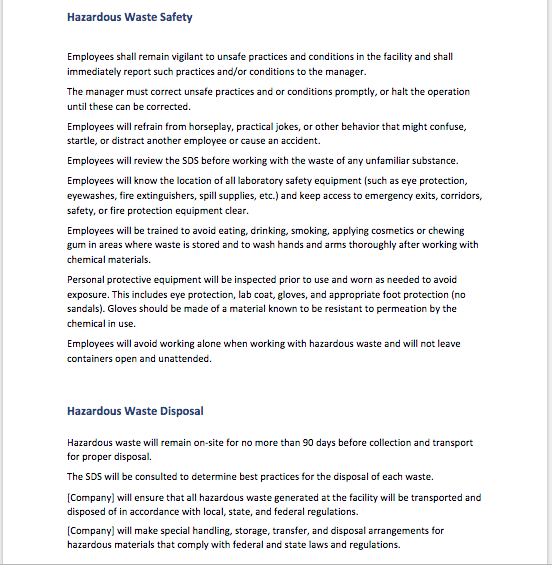 Introduction
Roles and Responsibilities
Inventory Control Manager
Facilities Manager
Employee Training
Waste Classifications
Waste Storage and Disposal Protocols
Universal Waste Management and Storage
Bulbs Disposal and Storage
Pesticide Management and Storage
Solid Cannabis Waste Storage and Disposal
Composting of Cannabis Waste
Liquid Cannabis Waste Storage and Disposal
Cultivation Wastewater Discharge Compliance
Waste Transportation Protocols
Non-Hazardous Waste Management and Disposal
Non-Hazardous Solid Waste Protocols
Non-Hazardous Liquid Waste Protocols
Hazardous Waste Management and Disposal Protocols
Determination of Hazardous Waste Methods
General Hazardous Waste
Hazardous Waste Storage
Hazardous Waste Safety
Hazardous Waste Disposal
Emergency Response Protocols
Record Keeping of Waste Processes
Appendix – Chemical Waste Log
Contact Jennifer to schedule a document tour before buying, or to request a package discount for purchasing 6 or more plans.
CONTACT US
VIEW OUR OTHER CANNABIS OPERATING PLAN TEMPLATES
Cannabis Waste Management Procedures
Cannabis waste is considered highly controlled until it is rendered unusable as a result of the process of blending it with inert materials such as cardboard or other kinds of waste. The rules vary somewhat from one jurisdiction to the next, but generally, the waste must be highly secure, monitored and tracked until it is rendered useless. It is divided into categories and placed in locked containers.
It's common for a cannabis producer to contract with a waste management company that comes to collect the cannabis waste on a weekly basis. Producers can also, in most cases, transport their own cannabis to waste facilities as well.
This cannabis waste management plan not only covers THC-containing waste, but also every conceivable kind of waste and how it should be classified, managed, contained, stored and removed from the premises.