We've created operational document templates for those seeking NJ Cannabis Cultivation Licenses. For most of you, the application and licensing processes will start in stages, requiring SOPs and a few specific operating plans during the Conditional Licensing Phase, and then an Operations Plan Summary for the Annual Licensing Phase (more on that below).
When will New Jersey Cannabis Applications Be Available from the CRC?
We had hoped that the regulations would explain how the best cultivation applications would be scored and chosen, along with the timeline, but we still don't have that information as of August 25th, 2021. It looks like we won't have it until actual applications are published "in a few weeks," according to the Chair of the CRC. From the regulations, the requirements for all of the license types are about the same. The one exception is that microbusiness applicants do not need a Labor Peace Agreement with an organized labor association.
For the New Jersey Cannabis Cultivation Conditional Conversion Licensing Process, we provide the following documents:
Every document we call a "plan" is written in narrative text, paragraph form.
Also included in the Phase I Document Set is the following NJ Cannabis Cultivation Procedures: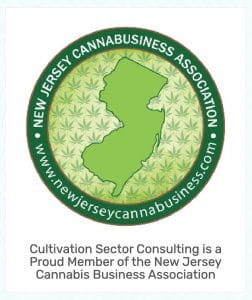 Every document we call a "procedure" or "SOP" is written in step-by-step instructional format.
The documents above contain policy citations, links to the regulatory text, and collectively comprises 146 pages of text, 11pt single spaced. This set of cultivation plans and procedures is offered at a package discount price of $6797. You can also buy these documents individually. Click on each one above to see the prices. The package deal represents a 24% discount over buying each document separately.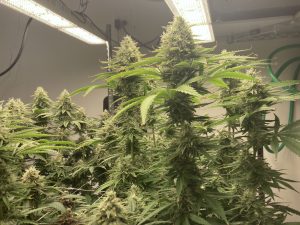 Please email us or call 1-877-757-7437 to schedule an appointment to view our application template sets. We are in the Hawaii time zone, which is 6 hours earlier than East Coast, so let us know in your voicemail how late we can return your call.
New Jersey Cultivation Application 2021 – Operating Plans and Procedures
Need Help Getting Started with Your New Jersey Recreational Cannabis Cultivation Application? 
These Cannabis Cultivation Operations documents will save you hundreds of hours preparing your NJ cannabis cultivation license materials!
It's exciting to see the adult-use cannabis industry finally coming to fruition in NJ! All adults should have the right to consume cannabis, so it's great that New Jersey is willing to be a leader, beating New York to the launch of a recreational cannabis market.
We have the regulations as of 8/30/21, but we don't have confirmation yet on the date when applications will be accepted, or exactly what the submission process will look like. The Chair of the CRC has been quoted in saying it will take "a few weeks" to start accepting applications, so that means it could happen by mid September.
How do I get a cannabis license in New Jersey in 2021?
One of your highest priorities should be to find a properly zoned location where you have permission from the municipality (and from the building owner if you are leasing) to operate as a cannabis grower, and you'll need at least a few hundred thousand dollars for licensing and buildout. For the first round of competitive cultivation licensing, millions is more like it. The winners of those first 37 cultivation licenses will likely all be $5-$10 million projects, maybe bigger. The microbusiness licensees (under 1000 plants per month, under 10 employees) will be able to get a small operation going for under $2 million. We hate to break the bad new for you, but a couple hundred thousand bucks won't get you very far as an indoor cannabis grower. Construction, mechanical installation, equipment and climate control systems run into some serious money because you are building out the equivalent of a clean-room lab that has the power and equipment to offset large amounts of moisture and heat.
Tip- if you don't already know a lot about cultivating commercial cannabis and would be happy with having any kind of cannabis license, you'd probably be best of with a New Jersey Cannabis Manufacturing License. This license type is one of the cheaper types to operate, doesn't require as much experience, not as much can go wrong, and you won't have to compete (as far as we know as of this date) to get one.
How Many Cultivation Permits Will Be Granted in New Jersey?
The State of NJ will be granting 37 large-scale cannabis cultivation licenses in 2021. These license applications will be scored, compared and judged against each other to determine the winners.
From what we can tell so far, only large cultivation licenses will be limited for the first two years; other license types (Distributor, Wholesaler, Manufacturer, Retailer and Retail Delivery) will not be limited by the State, but some local jurisdictions are limiting them. We do not know how they will choose the license holders locally when only a few licenses are being made available.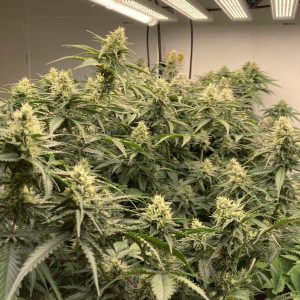 Over time, the rules will loosen up for larger cultivation businesses, but for now, you've got about 500 hours of time to put into gathering and organizing your NJ cannabis cultivation application materials. With the cannabis cultivation application templates we sell here, we believe we've reduced your workload by at least 300 hours. We know that because that's literally how long it took us to write all these plans!
The operating plan templates we offer are written from the standpoint of a hypothetical cannabis cultivation license applicant. It's as if you are getting to see a competitor's completed application and can use it as a model create your own high-level custom cultivation application!
Here are some sample pages from our NJ Cultivation Procedures. They include policy citations, hyperlinks, and a color coding system.

This is a sample page from the Inventory/Storage/AntiDiversion SOP: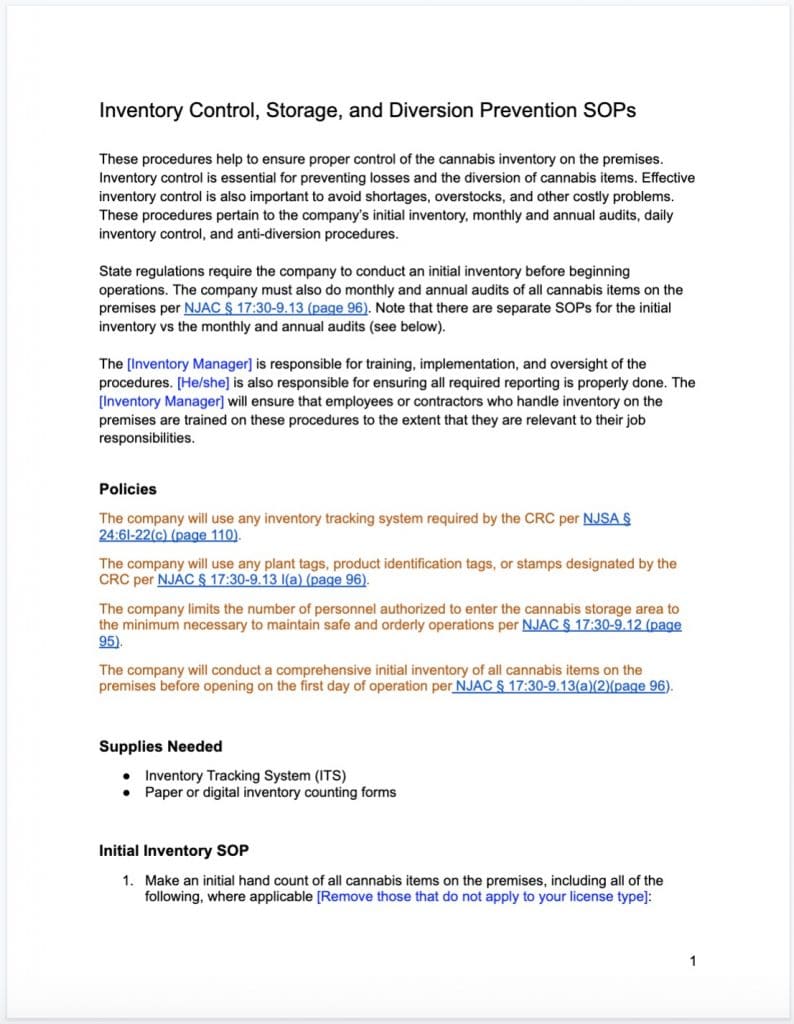 This is a sample page from the Packaging & Labeling SOP:

How Much Will a New Jersey Cannabis License Cost?
Total cost for a cannabis license in New Jersey has many components. The first is the amount that the state will charge to apply for the license. Based on the size of your business, this will range from a few hundred dollars to a few thousand.
AND…there are many other costs that need to be taken into account for planning purposes when it comes to obtaining a New Jersey recreational cultivation license:
If you want to start with templates to ease your process and save you time, templates will cost a few thousand dollars.
If you want to ensure that your license won't be kicked back over technical errors, an attorney will charge a few thousand dollars to review your documents.
If you are purchasing a property, your down payment could easily exceed $100k. If you are leasing a property, you'll need a security deposit, 1st and last month's rent, plus enough rent money to cover you until you can grow plants. That's going to run anywhere from $30k to $150k, depending on the size of the property.
You will need several hundred thousand dollars to cover all of your build-out and early operational expenses. This varies greatly depending on the size of the building. Figure $400 per square foot for a vertical LED setup, which covers equipment, materials, construction and mechanical installation costs. It's a lot, but you won't go over-budget if you plan for this level of expenditures. Read more here about cannabis facility design costs.
Contact us today for a pre-purchase tour of the documents! View before you buy and get a fee Q&A session at the same time.
What else should I know about starting my New Jersey Cannabis Application?
If you are applying for one of the larger New Jersey cultivation licenses and must compete with other applicants, there are 4 main components of a winning application: 1) evidence of solid financial backing, 2) evidence of sufficient commercial cannabis production experience, 3) proof of ownership (or owner's permission to use) of an adequate and properly located cannabis production facility, and 4) a complete and well organized NJ cannabis cultivation application.
Hi, I'm Jennifer Martin. I've been working on cannabis industry documents and application materials since 2016, and I've been designing and operating cannabis cultivation facilities for over 20 years. At heart, I'm a commercial grower, and I wish it were easy to legally set up shop anywhere and just grow cannabis plants for a living. Unfortunately though, many states are concerned about seeming too liberal about legalizing psychoactive substances, so they are generally making it difficult, if not impossible, to get a cannabis license. This is finally changing in New Jersey!