Cannabis Inventory Control Plan
Available for immediate download as an editable MS Word doc. This 19-page Cannabis Inventory Plan is a comprehensive protocol for plant and product tracking in a cannabis production facility. It applies to cultivation, manufacturing and distribution license types and can be made to work for any state or country's requirements.
Like all of our operating plan templates, we intend for the applicant (you) to read and customize this document to your specific rules and your individual approach to operations. If you are new to the industry, reading this Cannabis Inventory Control Plan will give you lots of new ideas that will help you develop your project down to the detail.
SCROLL DOWN TO SEE DOCUMENT SCREENSHOTS
Need other cannabis operating plans? We also have templates for Quality Assurance, Record Keeping, Inventory Control, Staffing & Training, Business Plan, Security Plan, Pest Management, Waste Management and a Cultivation Operating Plan.
​VIEW ALL OF OUR OPERATING PLANS
Special Note: These operating plan templates are intended for cannabis projects in the pre-license stage of a cannabis business project. They are designed to get your started in meeting the regulatory of your jurisdiction. ​
Disclaimer: As templates, these documents do not necessarily address the specifics of your regional compliance rules. They represent the combined industry standards of many different US states. We strongly suggest that you consult a cannabis attorney familiar with your jurisdiction to review and finalize these documents in order to ensure a smooth application process. We are not liable for any discrepancies between these documents and the specific regulatory requirements of your jurisdiction. ​​ ​
Screenshots of this Cannabis Inventory Control Plan Template: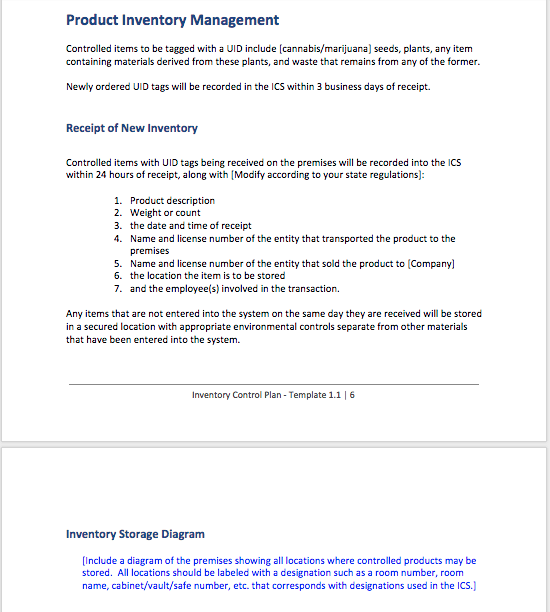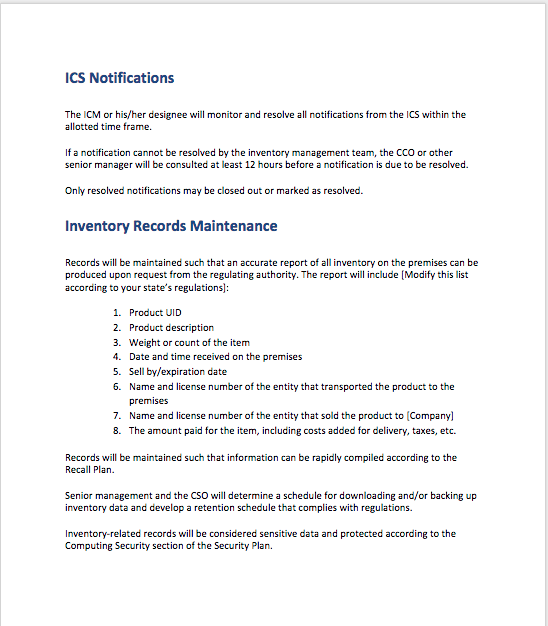 TABLE OF CONTENTS
Introduction
Roles and Responsibilities
Chief Compliance Officer
Inventory Manager
Computer Security Manager
Record Keeping Manager
Employee Training and Involvement
Inventory System Management
Physical Inventory Controls
Product Inventory Management
Receipt of New Inventory
Inventory Storage Flow Chart
Internal Transfers/Chain of Custody
Off Premises Transfers
Disposal/Destruction of Products
Inventory Management – Cultivation
Inventory Management – Manufacturing
Inventory Management – Packaging/Labeling
Inventory Management – Retail/Dispensing (if applicable)
Inventory Control of Cannabis Waste
Control System Notifications
Records Maintenance
Inventory Verification Protocols
Loss of Access to the IC System
Record Keeping
Schedule a document viewing before buying by Contacting Jennifer.

CONTACT US

​VIEW OUR OTHER OPERATING PLAN TEMPLATES