For the NJ Cannabis Manufacturing Conditional Conversion Licensing Phase, we provide the following templates:
Every document we call a "plan" is written in narrative text, paragraph form.
You will also need the following NJ Cannabis Manufacturing Standard Operating Procedures (SOPs):
Every document we call a "procedure" or "SOP" is written in step-by-step instructional format.
The documents above contain policy citations, links to the regulatory text, and collectively comprises 160 pages of text, 11pt single-spaced. This set of plans and procedures is offered at a package discount price of $7297. You can also buy these documents individually. Click on each one above to see the prices. The package deal represents a 25% discount over buying each document individually.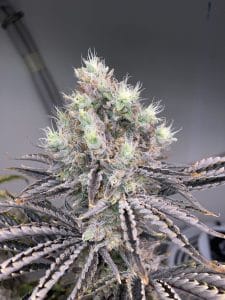 Please email us or call 1-877-757-7437 to schedule an appointment to view them. We live in Hawaii, which is 6 hours earlier than NJ, so let us know in your voicemail how late we can return your call.
New Jersey Cannabis Manufacturing License 2021 – Application Templates
Need Help Getting Started with Your New Jersey Cannabis Manufacturing Application? 
This NJ Cannabis Manufacturing Operating Plan template will save you hundreds of hours preparing your application materials!
It's exciting to see the adult-use cannabis industry finally coming to fruition in NJ! All adults should have the right to consume cannabis, so it's great that New Jersey is willing to be a leader, beating New York to the launch of a recreational market.
This New Jersey Cannabis Manufacturing Application Template Set includes several options. You can purchase the full set of plans and procedures, or break it down into stages and individual documents. Contact us if you need help figuring it out!
Applying for a Cannabis Manufacturing License in New Jersey in 2021?
The CRC published regulations on Thursday August 19th, 2021.
We have learned a lot of things about what will be required for Conditional and Annual License Applications, but applications are not available yet. They are supposed to be made available in a few weeks, when we will learn the final important points of submitting an application. For example, we don't know about page count limits or how applications will be scored.
How Many Cannabis Manufacturing Permits Will Be Granted in New Jersey?
We don't yet know if there will be a limit on manufacturing licenses in New Jersey, but it appears as if there won't be. It's possible that some municipalities will limit license numbers on a local level.
Over time, the rules will loosen up for getting a cannabis manufacturing license in NJ, but for now, you've got about 500 hours of time to put into gathering and organizing your cannabis manufacturing application materials. With the cannabis application license templates we sell here, we believe we've reduced your workload by at least 300 hours. We know that because that's literally how long it took us to write all these plans!
The application kits we offer are written from the standpoint of a hypothetical New Jersey cannabis manufacturing license applicant. It's as if you are getting to see a competitor's completed application and can use it to easily create your own custom cannabis manufacturing application.
Contact us today for a pre-purchase tour of the documents! View before you buy and get a fee Q&A session at the same time.
Here are some sample pages. Note that they contain policy citations, hyperlinks to the regulatory text and a color coding system.
This page is from the Cannabis Waste Management Procedure for Manufacturers:

This page is from the Release of Batches for Distribution/Sale SOP: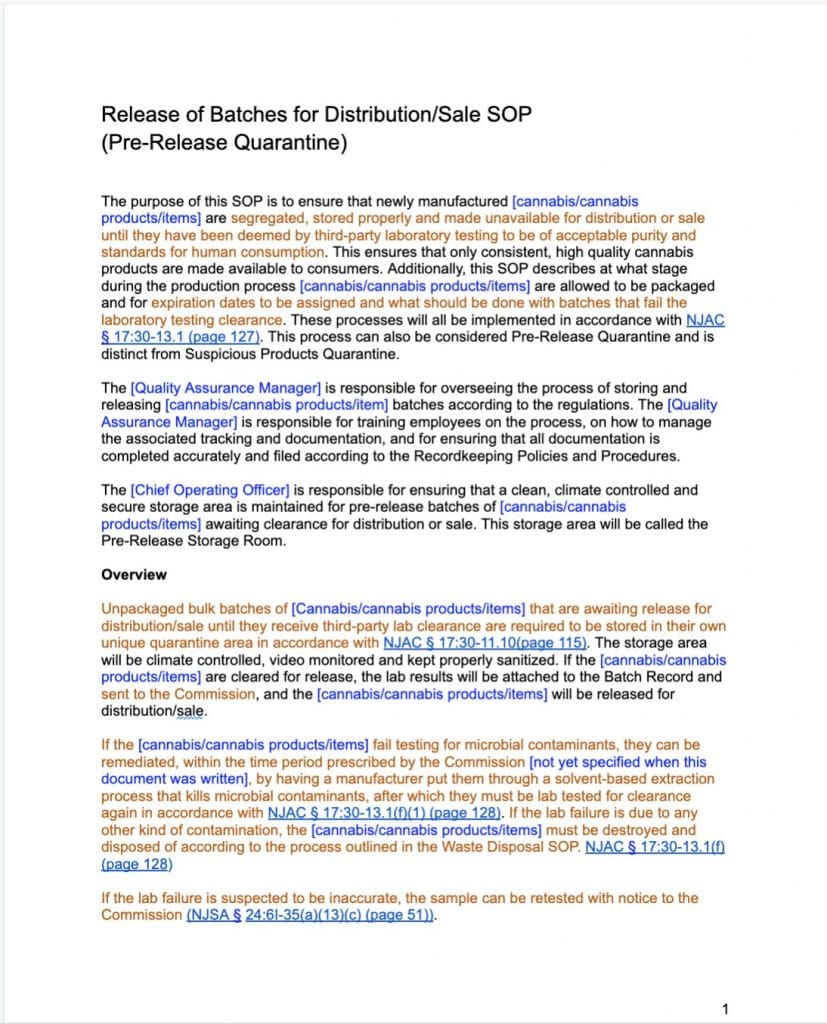 What else should NJ cannabis manufacturers know as they begin the manufacturing licensing process?
There are 4 main components of a winning application: 1) evidence of solid financial backing, 2) evidence of sufficient commercial cannabis manufacturing experience, 3) permission from your local jurisdiction to use a particular property for your business and 4) a complete and well organized application.
Hi, I'm Jennifer Martin. I've been working on cannabis industry documents and application materials since 2016, and I've been designing and operating cannabis facilities for over 20 years. At heart, I'm a commercial producer, and I wish it were easy to legally set up shop anywhere and just produce and sell cannabis for a living. Unfortunately though, many states are concerned about seeming too liberal about legalizing psychoactive substances, so they are generally making it difficult, if not impossible, to get a cannabis license. This is finally changing in New Jersey!